In  2009, I was told to start a blog to help search engine rankings for my website. (The cool people call it SEO.) So I bought this really hip domain name and set out to entertain bored internet surfers around the world with my quick wit and engaging stories. It didn't last long. Apparently quick wit is too much work for me and I really don't have that many engaging stories.
For my first blog, I planned to introduce my 14 year old daughter Jamie so I got all painted up to take a selfie of us. (Back in that day we called them "pictures of ourselves".) After many shots, I finally got just the right angle to make me look beautiful. Unfortunately for Jamie, it was not her best shot. In my defense, she was going through that awkward stage AND really didn't care that I was starting a blog and wanted a nice photo of us. "That is so loosery Mom". So I felt justified in not consulting her about the photo choice.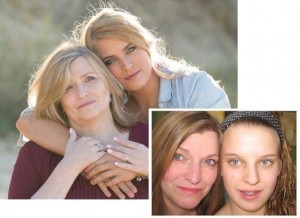 Paybacks are a bitch.
Six years later and Jamie is beautiful in even her worst shots. For me, it has become almost impossible to get just that right angle. Jamie says not to worry. "I have mad skills in Photoshop Mom." Good thing because I hate my neck.